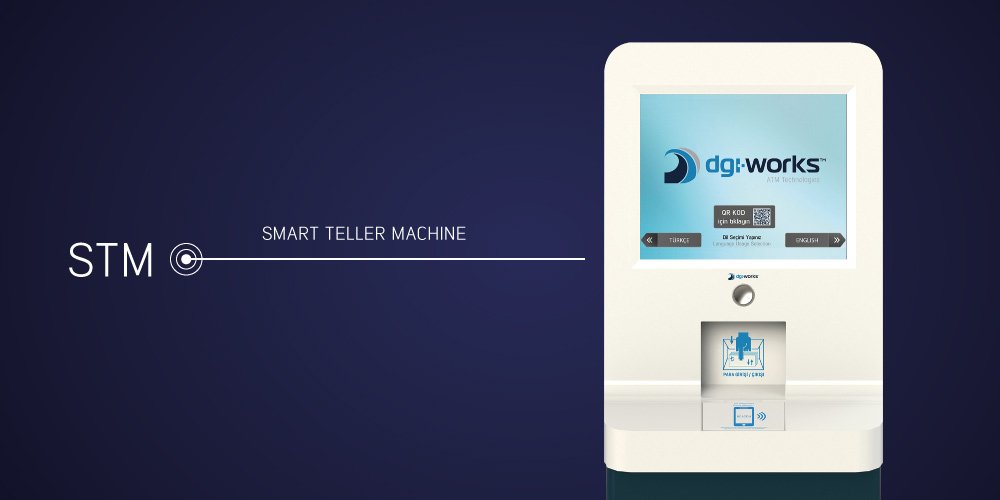 Cash Recycler Lobby Type STM
The cash recyler STM model K1 with the reliable performance and high cassettes capasity of recycling module is specific to the smartphone users, both while providing customers the fastest  and most reliable operation opportunities, and gives banks the opportunity to increase the use of mobile banking.
Basic Functionalities
Integred with Mobile Banking Application
Login With Smartphones(with Bluetooth or QR Code)
Withdrawal & Deposit (Recycler System)
Multimedia (Optional)
Basic Features 
Reliable Performance
Flexible Design
Cost-Effective
Fastest Process without Waiting
Make feel special to the customer with the Beacon apps.
Lean and Minimal structure
High Capacity

Bill Validation System
Up to 300 banknotes capacity at one transaction(Withdrawal or deposit)
Transaction speed is 8-10 banknote per second
Pass the Europen note identify standart high-performance identify sensor, over 200.000 pcs monitoring point, make sure to detect the fake note.
The automatic inspection function, can eliminate foreign matter (coin,liquid)
Read Serial numbers and banknote photo record system
Fake banknote blacklist recoqnition
User Interface
19" TFT LCD touch screen monitor (According to customer chocie; It can be designed without screen or up to 8 inches to 32 inches screen)
Only one button (for QR code generation)
Optional QR Code Scanner (For non screen models)
Optional Headset Jack. Loudspeakers and Voice guidance
Control Unit
Industrial Control PC
Intel Core i5 CPU, 2.88Ghz, 4Gb Ddr3 Ram, 64 GB Ssd
Optional 500 GB HDD, DVD Rom
Operating System; Windows 7
Communication
Standart TCP/IP, Bluetooth (Beacon)
Opsiyonel dial-up, wirelles, GPRS, 3G, Bluetoot (NFC)
Operating Environment
Voltage: 100V-240V AC.50/60Hz
Indoor Temperature
0 C' to  45 C'
Humadity : 20% to 95%
Dimensions
Dimensions (H x W x D): 1554 mm x 508 mm x 974 mm
Weight : approx.520 Kg.